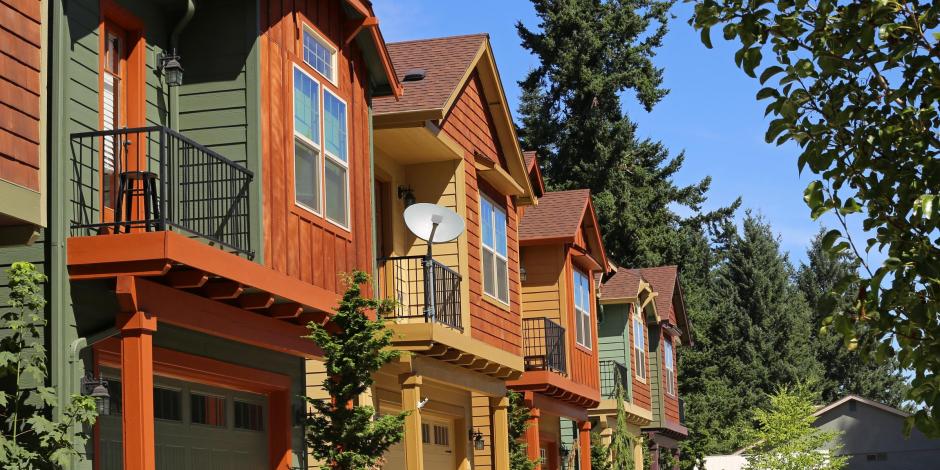 In 2016, we worked closely with the Bellamy River Condo Association to help them deal with an ongoing problem with ice damming.
The 28-unit condominium development in Dover, NH was built about 15 years ago, and has had an ongoing problem with ice dams and heat loss. While individual owners were suffering from high heating bills, the condo association was having to pay to repair water damage caused by the ice damming.
Our team was referred by a colleague to address the ice damming and heat loss problems. We brought in our Peterborough-based auditor, Ted Stiles, to lead this large project.
The Condo Challenge: All the Same, But Different!
We knew from our past work that there would be coordination challenges, and we wanted to make it right. We knew it would be best to do a couple of units first, make sure our approach was right, and then tweak the process as we needed.
One of the biggest challenges with doing energy efficiency upgrades in condos is the fact that while the units were all built by the same builder, no two units are exactly the same.
Each unit has a different set of air leakage locations and patterns, and middle units have different heat loss rates than end units. Some units didn't have an air barrier under the front overhang, and so had a higher blower door test result. In addition, some units didn't have adequate duct insulation. This meant that some units had higher upgrade costs than others.
Our Solution: Rebates and Energy Savings
Homeowners were given an initial report with recommendations and a quote on getting the work done. They were able to pick and choose the recommendations that they wanted to carry out. Nearly all of the homeowners qualified for the rebate program through NHSaves -- eligible homeowners can get 50% of the costs for qualified measures, up to $4,000.
Our estimated average energy savings per unit equates to more than 3,000 pounds of carbon each year, and cost savings are between $500-600 per year.
Ready to learn how we can help you achieve significant cost savings and carbon reductions? Contact our team today!